DEAL VOLUME'S DOWN, INTEREST RATES ARE UP: CONSERVATIVE LENDING IS THE NEW NORMAL
Borrowing and lending for commercial real estate deals is hardly dead in the water, but it is not as active as it was only a year or two ago, as interest rates have crept up and transaction volumes are down.
Essentially, there is a more conservative mood in the capital markets, according to the speakers at our Orange County Capital Markets & Investment Forum. Both borrowers and lenders are feeling it, especially as the outlook for rent growth in multifamily is not as robust as only a few years ago.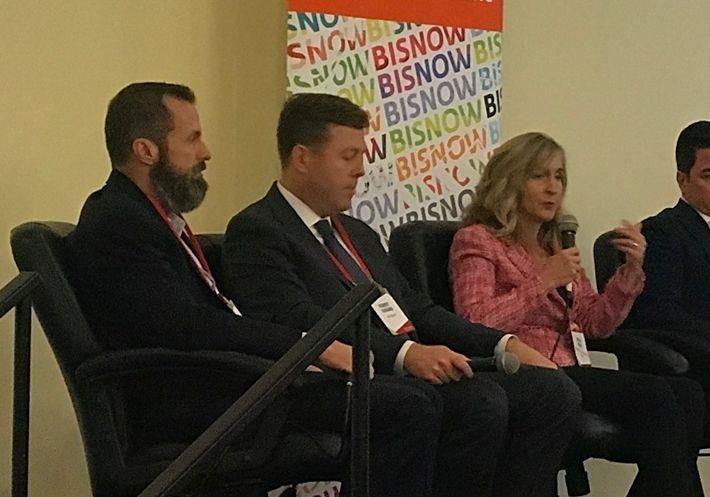 Despite the more conservative mood, new players are trying to squeeze into the game. One recent development in CRE lending is the rise of large debt funds aiming to take up some of the slack caused by more conservative attitudes among banks and other lenders.
The Bascom Group Managing Partner Jerome Fink, whose company buys value-add
multifamily and renovates it, said agency lenders were extremely active about four years ago, and banks were lending at 65% loan-to-value and 250 basis points over Libor. That was the universe of lenders for value-add acquisition loans.
"Today, you see an explosion of lending among the Blackstones and Starwoods of the world," Fink said. "They're out there raising big debt funds. The big banks aren't as aggressive or active as they once were. For one thing, they have debt-yield tests that are harder to get over."
The debt funds are lending at 65% to 75% bridge loans in the range of low-300 basis points over Libor, Fisk said.
KBS Realty Executive Vice President Finance Robert Durand, whose company specializes in office projects with relatively low leverage, said as interest rates have gone up, spreads have come down.
"The market for higher-leveraged deals, which involves transitional assets at 65% to 70% leverage, has gotten very competitive in that last 12 months," Durand said. "As banks have become a little more conservative, a lot of other players have come into that space. It's been an interesting transition to watch."
Farmers & Merchants Bank Senior Vice President and Regional Relationship Manager Kathy Reed said her bank lends across the board, but also has a niche in nonprofit. As such, Farmers & Merchants is not facing such stiff competition from debt funds.
"Our borrowers are high net worth individuals and smaller developers," Reed said. "From four years ago to today, our underwriting hasn't changed. We're still a conservative, low loan-to-value, 50% to 60%."
Still, there is competition from other banks in the space. "They're giving away on rate, and on LTV, and that concerns us a bit."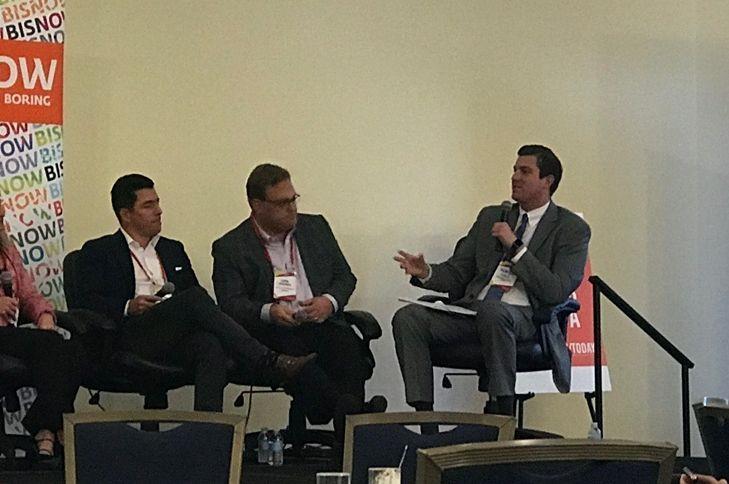 Rialto Capital Director, Commercial Properties Group California Jeremy Griffin, whose company has about $5.5B of assets under management, said in 2012 and 2013, Rialto took a little more leverage in its deals than now, because there was higher projected net operating income growth in those days.
"We pushed the envelope in a few deals, up to 70% to 75%, but as the cycle has progressed and is getting longer in the tooth, we've ratcheted that down accordingly," Griffin said. "In office and industrial, we cap out at about 65%, and 70% in multifamily, so that means we're talking mainly to banks and a few debt funds that can offer attractive pricing."
Pacific Life Insurance Co. Managing Director of Commercial Mortgage Investments John Waldeck, whose company specializes in large construction loans, said the market for that kind of lending is not so different now than four years ago, though there is more competition.
"Where we add value to our portfolio isn't in risky, high-yield plays, but in loans that are a little more than an industrial loan that's, say, getting 145 over Libor or less," Waldeck said.
"There are more lenders entering into construction lending, and that's where competition is driving down rates. Now it's less obvious where your next deal is coming from."
Buchanan Street Partners co-founder and President Timothy Ballard said his company has two kinds of customers: large pension plans that have a lot of capital, but are reluctant to deploy it because they are a little worried about the future of the economy, and high net worth investors looking for more opportunistic deals.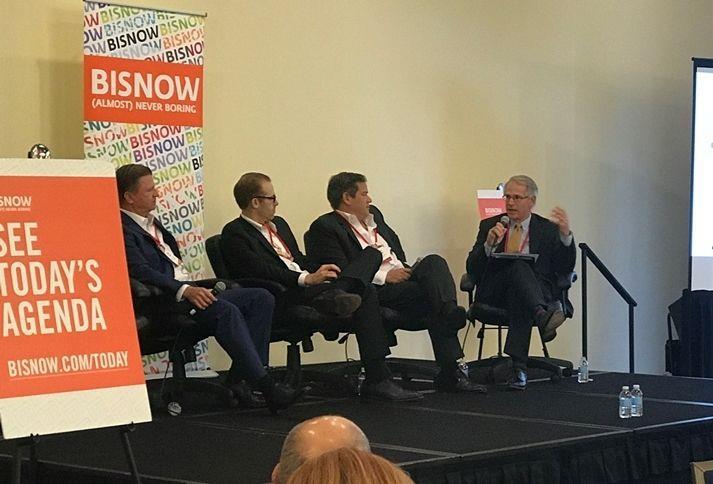 "High net worth investors want yields that they can't find in their other investments, so they're eager to be in real estate, and if they can get a 6% to 7% cash dividend, they're excited about that," Ballard said.
Transaction volume has been falling in the last year or so.
"The institutional investors are cautious. They're defensive and piling up cash," Ballard said.
"The projections are that transaction volumes will continue to drop, because owners are rewarded for not selling. I've seen that over and over."
LBA Realty Vice President, Acquisitions Mike Johnson said his company, a private REIT, has two funds: one an opportuntistic fund that acquires industrial and office, the other a fund that focuses on core industrial.
"There's a lot of capital chasing the same deals, so it's a challenge to find deals and close them, but we're finding opportunities. We're also realistic sellers."
Johnson also said there is a massive consolidation going on within the industry.
"On the industrial side, there are core funds that don't sell," he said. "As they acquire properties in one-off deals from private owners, it's that much more product that's taken out of the marketplace."
USAA Real Estate Co. Managing Director Steven Ames said his company has seen a lot of growth, with about $20B in properties under management and funds that cover the entire capital stack. The company has sold about $10B in real estate assets over the last four years, but even so has grown.
There are reasons for caution now, Ames said.
"We're in the second-longest growth cycle in history, about eight years. There's rising interest rates, slowing rent growth, geopolitical uncertainty — a lot can happen quickly to slow down growth. Also, the country has spent the last year watching the train wreck of our politics."
"We're looking for investments that can weather the downturn, because there are always downturns."
Green Street Advisors Managing Director, Strategic Research David Bragg, whose company does research across the country and in all property sectors and also has an advisory and consulting group, said there is great disparity in real estate valuation now.
"We're seeing retail values declining in the last year, especially in the low-quality mall segment, and rising values in industrial real estate. Those are the two standout sectors."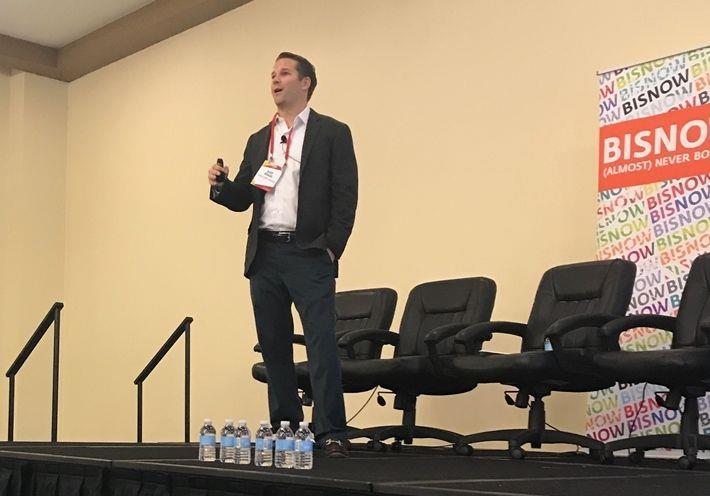 Cap rates have flattened out in most sectors in the last year, Bragg said, though they have been rising dramatically in lodging, and in the mall sector, which varies greatly according to
the quality of the mall.
For Class-D and C malls, it is likely that many of them will not exist in the near future. The valuation of the top 1,000 malls, by contrast, is strong.
"Our favorite sector, and it has been for some time, is manufactured housing, which is highly fragmented and undervalued. There are a couple of high-quality manufactured housing REITs that we think very highly of."
Bragg said e-commerce, Airbnb and the transportation revolution are key considerations that will affect certain property sectors in the future.
The outlook in terms of asset values for various niche sectors, such as data storage, net lease, self-storage and manufactured housing, are generally better than more mainstream property types, except for industrial, he said. Declining values are expected for malls and office.
THE FUTURE OF THE PRIVATE-LENDING SPACE
NEWPORT BEACH, CA—The CRE finance market is watching to see whether the Trump administration will advocate changes to Dodd-Frank and how those changes could impact the securitization and banking side of the market, Buchanan Street's Matt Doerr tells GlobeSt.com.
The commercial real estate finance market is watching to see whether the Trump administration will advocate changes to Dodd-Frank and how those changes could impact the securitization and banking side of the market, Buchanan Street Partners VP Matt Doerr tells GlobeSt.com. The firm recently provided a $16-million loan to refinance 21845 Magnolia St., a 29‑acre industrial facility in Huntington Beach, CA, recently purchased by subsidiaries of Shopoff Realty Investments. The loan represents the company's ongoing strategy to provide reliable bridge financing for value-add real estate.
Buchanan Street also recently provided an $18-million loan to a major Los Angeles-based development firm for the acquisition of an existing shopping center in Granada Hills, CA. The loan was funded through Buchanan Street's proprietary bridge lending platform and provides additional funds for interest, pre-development expenses as well as "good news" funds if entitlements are secured. The borrower recognized the attractive in-place zoning, which may permit high-density commercial and multifamily use. The "by‑right" zoning designation greatly enhances the site's redevelopment appeal.
Lastly, Buchanan Street continues to expand by recently adding Chris Cervisi as assistant VP to its debt-investments team to meet its growing business and market demand. Cervisi joined the team last month with more than eight years of experience structuring equity and debt and is responsible for sourcing, structuring and underwriting real estate debt investments. In his previous role, he was focused on office and retail acquisitions and asset management, including underwriting, market research, business-plan formulation, reporting of fund investments and dispositions.
We spoke with Doerr about these two transactions and the hiring of Cervisi, how they all relate to the company's strategy going into 2017 and where he sees the private-lending market heading.
 GlobeSt.com: How are the refinancing of the Huntington Beach industrial/land property, the acquisition loan for a San Fernando Valley shopping center to be redeveloped and the addition of Chris Cervisi related to your company strategy?
Doerr: These most-recently funded loans and the hiring of Chris are tangible indications of not only our platform and personnel growth, but the positive reception of the Buchanan Street brand within the bridge-lending business. These loans specifically affirm our Western US regional focus and adaptive structuring capabilities in customizing varied loan solutions. Chris's diverse background on both the equity and debt side of the ledger allow us to further build out our talent base to serve our broker and direct borrower relationships.
GlobeSt.com: What type of growth do you envision for your company in the next year?
Doerr: Since our company's inception of the mortgage-lending business, we have continued to grow our active pipeline and loan closings, which point to an increased production year for us in 2017. Anecdotally, we have seen a significant increase to our pipeline within the past 60 days aligned with the recent uptick in interest rates. In addition to our bridge lending, we also provide institutional mezzanine capital for larger projects. Both products are becoming more active within the construction lending area where banks have been negatively impacted by the increased regulatory environment.
GlobeSt.com: How do you see the future of the private-lending space?
Doerr: We believe that the private-debt-capital space will continue to capture more market share in the wake of HVCRE rules and other regulations. The CRE finance market is watching to see whether the Trump administration will advocate changes to Dodd‑Frank and how those changes could impact the securitization and banking side of the market; however, it's unlikely that any changes will occur in 2017, and regardless, there will always be a need for predictable private capital to meet varied and customized borrower demand. There continues to be a need for capital that can provide structuring flexibility, responsiveness and certainty of execution. We pride ourselves on our discretionary, efficient and expeditious closing process.
GlobeSt.com: What else should our readers know about your company?
Doerr: As we enter into our 18th year, Buchanan Street continues to innovate and develop new investment products for our diverse investor client base. It is evident that real estate is becoming a significant part of an investor's asset allocation, with its ability to offer fixed-income characteristics while providing tax advantages and an inflationary hedge. Accordingly, we are continuing to explore new property segments for portfolio diversification to satisfy our increased client demand.
UCI Real Estate Luncheon Celebrates Leaders
By Carrie Rossenfeld
IRVINE, CA—The Center for Real Estate at UCI's Paul Merage School of Business paid tribute to four of the top leaders in the real estate industry at a recent awards luncheon and presentation of the lifetime achievement award at the Hotel Irvine here. The luncheon was sponsored by FivePoint, a Calif
ornia-based community real estate development company, and Kennedy Wilson, a global real estate investment company; more than 500 guests attended the celebration.
Among the honorees were Douglas C. Neff, partner/president at IHP Capital Partners, who was presented with the 2016 Lifetime Achievement Award. According to long-time friend John Duncan, "Doug is one of the brightest people any of us know. He's also one of the most competent and one of the most effective." Larry Webb, CEO of the New Home Co., commented, "Doug is a powerhouse in the real estate industry. He's easily the smartest guy in every room." Gordon McNeill, president of Sage Hill School, added, "In an organization, there's always a few people who really transcend the entire institution. Doug is one of those people."
Marco Vartanian, SVP of Colony, Starwood Homes, received the 2016 Rising Star Award. John Cushman, chairman of Cushman & Wakefield, Inc. remembers giving Vartanian advice. "I told him to always remember one thing: the early bird gets the worm, and the harder you work, the luckier you get. And, that's Marco."
According to Vartanian, "What motivates me is to encourage the people I work with to see a vision of the future that is greater than what they can see for themselves. I think of myself as a service provider for all of the people I work with every day."
Other award recipients included Timothy L. Strader, Sr., founder/chairman of Starpointe Ventures, who received the 2016 Distinguished Service Award, and Robert S. Brunswick, co-founder and CEO of Buchanan Street Partners, who received the Orange County Community Foundation Power Packed Philanthropist Award.
BUCHANAN STREET FINANCES SHOPOFF PROJECT
Buchanan Street Partners in Newport Beach has provided a $16 million loan to refinance 21845 Magnolia St., a 29-acre industrial facility in Huntington Beach recently bou
ght by subsidiaries of Shopoff Realty Investments. Buchanan Street financed roughly 50 percent of the acquisition cost, according to a statement. Shopoff is planning a large-scale mixed-use development at the site to include single-family homes, townhomes and open space as well as hotel, commercial and retail components. Buchanan Street's nonrecourse first mortgage provides Shopoff new capital to support the pursuit of entitlements for the master-planned development.
Buchanan Street also provided a $18 million loan to a Los Angeles-based development firm for the acquisition of a shopping center in Granada Hills. The loan was funded through Buchanan Street's proprietary bridge lending platform. The firm financed about 65 percent of the cost on a 12-month term.
The firm also added Chris Cervisi to its team as an assistant vice president. He will be responsible for sourcing, structuring and underwriting real estate debt investments.
The Spirit of Giving: Shana Baker
By Tina Borgatta and Kristen Schott
There is a need in every community; but generosity runs deep in Orange County. From the agencies that feed and heal out children to the individuals whose dedication and altruism are changing the lives of many; here are the organizations and leaders driving our philanthropic scene right now.
You can hear the smile in Shana Baker's voice when she talks about her 1 ½-year-old adopted son, Jaxson: "He likes to go, go, go!" The same happy note reverberates when she talks about her philanthropic "itch." It grew out of her grandmother's charitable passion, took root in her teens when she served Thanksgiving meals with the Salvation Army and h
as led her to numerous efforts, like the Pediatric-Adolescent Diabetes Research and Education Foundation. She's championed the cause since 2012, when her then-3-year-old nephew was diagnosed with Type 1. "I asked myself: Were there a lot [of kids] like him?" recalls Baker, the VP and controller for Newport Beach's Buchanan Street Partners (she's also on its charitable board and was an ambassador for Talk About Curing Autism). It fueled her to join PADRE; she held various board positions before being named president last spring. And it's been a banner year for the Orange-based nonprofit, which provides educational and psychosocial programs to 2,500-plus children affected by the life-threatening disease of the pancreas. It's boosting its research focus through partnerships with local projects for a cure; it recently donated $25,000 to UCI's Clinical Islet program. And the annual fashion show—Baker's co-chaired it for the last two years—landed a record $300,000. She'll take on that role next year too (the bash is set for May 13). Then there's her hope that PADRE will soon expand with satellite offices: "I see how happy these kids are," she says. "When they are with others [with Type 1], they don't feel alone." PADRE Foundation, padrefoundation.org

By: Robert J. Dougherty
Expect millennial workers to return (if they ever really left) to where they were raised
Housing affordability and quality public schools are driving factors
Millennials will favor submarkets that offer elements of the CBD's they are leaving
Transit-oriented communities allow workers to keep a foot in both worlds
Workspaces that replicate contemporary urban style will be preferred
 Much has been written about the so-called "Millennial" or "Generation Y" worker.  Demographers have failed to pin precise dates on when this generation of people begins and ends, but generally the millennials are considered to be those born between the early-1980's and the late-1990's. The term "millennial" is believed to have been coined to refer initially to those graduating from high school around the turn of the millennium.  Today, the millennial office worker ranges from those preparing to graduate college and take their place in the workforce to vice presidents in their mid-30's.
Millennial workers are undoubtedly a powerful cohort in the U.S. labor market, representing the largest single generation employed today, so it is important for real estate investors to understand how their traits and desires will influence space utilization trends.  Naturally, the millennial generation is heavily tech oriented and thoroughly plugged in online.  They have also become tagged with a reputation for being entitled, needy, and self-centered.  Whether or not these labels are appropriate is an assessment better left to the sociologists.  However, the savvy real estate investor will seek to determine what this generation will demand from commercial and residential properties because, according to the Bureau of Labor Statistics, millennials will comprise nearly 75% of the U.S. workforce by 2030.
Flocking to the cities?
A widely held view in the real estate community is that millennials have migrated to U.S. central business districts (CBD's) in droves, a trend which is believed to have accelerated as the economy emerged from recession in 2010-2011.  Proverbially, the millennial worker emerged from his/her parents'  basement in Reston or Irvine (if Irvine had basements) and found a job again - some for the first time.  Attracted by the vibrant arts and social scenes that downtowns offer, America's professional youth took up residence in flats from New York to San Francisco and showed up to their desks in DC and Los Angeles.  These children of the suburbs were becoming urbanites.
Of course, the last two sentences above could have been written as accurately in 1972, 1987, and 2002.  Twenty-something's have gravitated
 towards cities for generations, maybe even centuries.  Data does, in fact, illustrate that younger Americans are more urban-oriented [chart] than their elders, but does this come as any surprise?  Are they more city-loving at their current ages than their parents were 30 years ago?
Some say yes.  They believe that millennials are, in fact, signaling an important demographic shift towards urbanity.  Being connected to a large online social network, they value integrated community living, as well.  They are concerned about their carbon footprint so they shun the automobile in favor of mass transit and laying down actual footprints on city sidewalks.  They crave the pedestrian lifestyle of the corner coffee shops that they knew in college and look forward to posting on Instagram or Snapchat about dining at the hot new restaurant in town and hitting the coolest clubs afterward.
The real estate corollary is that absorption of office space since the Great Recession has favored CBD's over the suburbs.  Conventional wisdom holds that employers were forced to
compete for talent as the economic recovery took root, compelling them to rent downtown offices in order to attract millennial workers living nearby.  Ping pong tables, bike lockers, wired internet lounges, and stocked cantinas . . . even climbing walls and massage rooms became necessary accoutrements for drawing in the desired millennial worker pool.
So goes the accepted narrative.  But is it accurate and does it tell the whole story?  Consider that companies may have chosen to rent space in the CBD's as their employment needs expanded because it was comparatively cheap coming out of the recession. The dramatic
 rise in office rents that has been witnessed recently really began in 2014.  From 2009 – when landlords would have given away space if they had any takers – through 2013, downtown office space was comparatively inexpensive on a constant-dollar basis versus historical rents.  Of course, suburban space was even cheaper but, if one can get a Lexus for the price of a Toyota, the "luxury" choice is often made.  Maybe accommodating workers' desires was secondary to cost considerations in companies' expanding downtown?
But will they stay?
Some sociologists are debunking the notion that millennials are more city-loving than generations which have preceded them.  For instance, demographer William Frey argues that many millennial workers have mentally "aged out" of the cities in which they dwell.  However, they've been "trapped" downtown as victims of economic circumstance since the Great Recession.  Declining real wages, poor job prospects in a tepid recovery, and a larger load of student debt than any prior generation have left millennials unable to afford to buy homes in suburbia.  Even those whose fortunes have improved in the latter stages of the current job expansion may have missed their window to buy an affordable home in the suburbs given the sharp rebound in housing prices in major U.S. metropolitan areas.
But are millennials really pining for the "home with a white picket fence?"  Perhaps the younger generation does not covet home ownership to the same degree their parents did.  This thinking argues that millennials would rather rent in the cities versus buying in the suburbs.  (Buying in the cities has basically become a "one percent" proposition.)  Proponents of this view point to a rate of U.S. home ownership that reached a 50-year low of 63.1% in the second quarter of 2016 and, more particularly, the low rate of home ownership amongst persons aged less than 35 years – 34.1% as of 2Q16 according Census Bureau data.  The latter rate has also declined markedly in recent years.  At the end of 2010, the ownership rate amongst sub-35 year-olds was 39.2%, so it has fallen off over 500 bps while home ownership for all Americans declined only half as much, by 260 bps, from 80.5% to 77.9% over the same period.
However, the preponderance of research seems to run contrary to the reputation of the city-loving millennial.  One researcher recently wrote, "Millennials presence in the city should not be confused with a preference for the city."  Nearly all consumer surveys indicate that Americans still greatly desire home ownership.  For example, a recent survey conducted by the National Association of Realtors (NAR) indicated that 87% of Americans believe that home ownership is part of the American Dream, and a similar survey by Ipsos asked consumers if they agreed with the statement that home ownership is a dream come true … 86% agreed.  Instead, it seems far more likely that the decline in home ownership across the board and amongst millennials has much more to do with the inability to afford a home versus lacking desire to own one.
In fact, according to the U.S. Census Bureau, 78% of households earning above the national median income owned their homes while only 48% earning below the median were home owners at the end of 2Q16.  The Great Recession put a major dent in potential down payments of many would be home owners.  Despite historically low interest rates, some have yet to see their incomes fully recover enough to afford the ongoing mortgage service.  Reduced wealth – households headed by persons younger than 35 years saw a 30% decline in net worth between 2010 and 2015 – is causing many life decisions to be delayed out of necessity and adds to the notion that some millennials are stuck in the cities.  Marriages are happening later in life amongst the younger set, and millennials are far less likely to possess a car or a driver's license than prior generations.  The latter presents a conundrum.  Some don't own cars by choice because it's expensive and unnecessary in America's largest cities, but those who can't afford to own a car are truly beholden to urban dwelling.
Still other potential buyers are saddled with credit problems and debts racked up during the recession and face a more stringent lending environment in which banks and other mortgage lenders are far choosier in selecting borrowers and documenting qualifications.  One-third of millennials fail to satisfy the minimum average credit score of 620 which Fannie Mae requires for mortgage purchases, making it difficult to obtain a conventional home loan.
Nonetheless, time heals all wounds, and America remains a society that values and promotes home ownership.  It is engrained in our national ethic, embodied in our financial system, and codified through material benefits in federal tax laws.  As the bank accounts of millennials eventually recover and as they age and expand families with more children of their own, it is reasonable to expect that they will seek to plant deeper roots just as their parents did.  But where will they settle down?
If one accepts affordability as the principal impediment to home ownership, then it's hard to believe that family roots will be established under city streets.  According to a recent study by Zillow, homes located in urban U.S. ZIP codes appreciated by an average of 7.5% in 2015, while suburban homes appreciated 5.9%.  Over a five-year period, between 2010 and 2015, city homes are up 28.4% compared with 21.1% growth in suburban home prices.  Notably, the differential is much more pronounced in America's largest cities, especially coastal markets.  In Los Angeles, the value of urban homes rose a whopping 42.1% between 2010 and 2015, while homes in LA's suburbs appreciated by 33.9% over the same time frame.  A similar story has played out over the past 5 years in Boston (37.1% city home price growth vs. 20.5% in the suburbs), Washington, D.C. (23.8% vs. 14.4%) and San Francisco (65.3% vs. 58.7%).
How can the typical millennial, who has faced declining household wealth afford a home in the heart of San Francisco when it costs 65% more than it did in 2010?  Furthermore, if a buyer still values space, it is also worth noting that city homes are getting smaller at the same time that they're getting more expensive.  In Washington, D.C., for example, urban homes in 1996 cost 6% more per square foot than suburban homes. In 2015, they cost 41% more per square foot.
A case can be made that this increase in urban home prices, particularly in America's largest coastal cities, needs to be viewed through the lens of rising income, which is taking place in major U.S. cities even while income growth is tepid across the country as a whole.  Housing affordability is more important to assess than absolute pricing.  However, the nation's largest coastal cities also remain challenged in terms of price-to-income ratios.  As the chart below reflects, East Coast metroplexes Boston, New York, Washington, and Miami all have price-to-income ratios above the national mean.  San Francisco, Los Angeles and Seattle all tell a similar story of challenging affordability on the West Coast, as well. Granted, these ratios are well-below the credit-fueled bubble of 2005-07; however, with fewer cheap mortgages available except to the most creditworthy clients, true "affordability" may be worse even while price-to-income ratios are lower. [it should be noted that the map reflects the entire metropolitan areas, both suburbs and downtowns. The available data does not allow one to determine whether downtown incomes have kept pace with the rapid rise in city prices]. 
Evidence is mounting and more articles are being written which suggest that the reputation of the city-loving, permanently renting millennial may be apocryphal.  Given that millennials seems to harbor home ownership aspirations, and the cities in which they are living are unaffordable, is their return to the suburbs preordained?
Reverse migration has begun
Actually, it appears that millennials have already commenced a return to the land of their upbringing.  Population statistics released by the Census Bureau at the end of 2015 show a continued outmigration to the suburbs.  In fact, the ballyhooed urbanization of America may have been nothing more than a blip or, at the most, a short-lived trend.  Census data indicate that growth in urban areas was greatly outpaced by suburban population increases during the mid-2000's housing bubble, as rising suburban home construction attracted buyers from all walks of life.
Emerging from the financial crisis, both suburban and urban areas gained population.  The supposed preference for u
rbanity seems to have been drawn from the slowing of a decades' long trend of suburbanization.  The differential in the rate of population growth between U.S. cities and their outskirts narrowed markedly after the housing bubble popped.  However, only in one year – 2011 – did the population in cities actually grow faster than in the suburbs, and in 2015 urban growth actually slowed to its lowest level since 2007.
CBRE analyzed the Census data and concluded that approximately 30% of millennials reside in cities but noted that "the other 70% do not appear to be rushing to move
downtown."  CBRE also pointed out that so-called "midrange" U.S. millennials - age 25 to 29 – migrated more frequently from the cities to the suburbs (529,000) in 2014 than into downtowns (426,000).  This outmigration was even more pronounced for persons 30 to 44 years of age.  In 2014, 1.2 million of them left cities for the suburbs while only 540,000 headed in the opposite direction.
This suburban trend is more likely to grow than abate because the population peak of the millennial generation has not yet reached prime home buying age.  Sociologists peg 1990 as the peak birth
year for the millennial generation.  While this ignores the impacts of immigration, U.S. births did decline markedly after 1990.  Thus, the peak millennials are now 25 years of age and will be "maturing" economically into potential homebuyers over the next 10-15 years.
Many demographers believe that the credit and housing bubble substantially distorted U.S. migration trends.  Massive homebuilding fueled growth in the suburbs during the mid-2000's.  After the crash, America experienced a migration into the cities in search of higher paying jobs and more plentiful rental housing during the depth of the recession.  The developing school of thought is that, now that the effects of the housing bubble are becoming normalized, the U.S. is reverting to its inexorable 60-year-old suburbanization trend.
Will the jobs follow?  As with the millennials, they already are . . .
Of course, just because more heads are resting on suburban beds, doesn't mean that jobs are also migrating to the suburbs.  However, the post-recession trends in office absorption seem to mirror the population trends outlined above.  Emerging from the global financial crisis, America's downtowns enjoyed their day in the sun.  From the beginning of 2010 through mid-2012, Class A CBD space led all categories of space in the rate of net absorption relative to inventory. 
Notably, the flight to quality referenced above was also in evidence, as only Class A space – whether urban or suburban - enjoyed positive absorption in 2010 and 2011.  However, since late-2012, suburban Class A space overtook all other office categories as the relative net absorption leader and has remained the leader since.
Of course, higher office space absorption in the suburbs has likely been a function of greater availability.  In fact, suburban office buildings of all quality levels (Class A, B, and C) continue to remain less occupied than their downtown counterparts.  However, expect 
this occupancy differential to narrow as CBD office space becomes increasingly expensive.  As the chart below illustrates, cumulative rent growth since 1Q 2010 for downtown Class A office space (29.0%) has been more than double that of Class A suburban space (14.4%).
As Class A CBD office rents continue to reflect a rapid ascent, the overall gap between CBD and suburban rents has widened to a post-recession high.  
According to Jones Lang LaSalle, CBD office rents were 62% higher than overall suburban rents at 3/31/16.  If the U.S. economy softens, will belt-tightening cause employers to look more closely at this rent differential? If their workers are increasingly moving to the suburbs, perhaps relocating more jobs nearby would carry a "double bottom line" of lower costs and improved employee morale.  This seems, if not inevitable, more likely than not.
Winners and losers . . . implications for commercial real estate
What will be the effects of this emerging suburban "renaissance" and what strategies can smart real estate investors employ to take advantage of it?  The following are a few possible takeaways:
Emphasize housing affordability – In what seems an obvious implication, investments which pursue areas of housing affordability should fare well. These include residential projects which themselves offer affordable housing or commercial properties presenting proximate employment opportunities.  In a similar vein, properties in cities with cheaper housing for millennials – whether urban or suburban – should benefit from millennial migration.  Millennials have demonstrated that they are mobile and can move between metropolitan areas just as well as within them.  The prevailing exodus to Western and Sunbelt cities is resuming.  Cities with a high quality of life, strong employment growth, yet more affordable housing should benefit from long-term migration trends.  Austin, Denver, Dallas, Atlanta, Charlotte, and Phoenix have already experienced this type of growth, seemingly at the expense of places like Detroit, Cleveland, and Pittsburgh.  However, don't be surprised if growth slows in high-cost Tier I markets and the second-tier Western and Sunbelt cities begin to siphon people from Boston, New York, and Seattle, too.
Replicate urban amenities in the suburbs - Even if millennials are pining for the suburbs for the primary reason of cheaper housing, it makes sense to think that they still love their coffee bars, clubs, and communal living. Successful real estate developments and renovations in the suburbs will recreate elements which attracted millennials to the city initially.  This might include an on-site barista lounge, ping pong or fussball tables, wifi-enabled common areas, and more contemporary office layouts and finishes.  Other amenities, such as sand volleyball or bocce ball courts – one building in San Diego's Del Mar Heights even has a wetsuit locker - might be unique to the suburbs but reflect millennials' desires to mix work and play.
Seek urbanity in the suburbs – Places which are the "next best thing" to living in the city will be coveted by millennials. Provided that the public schools are good and soccer and baseball fields are plentiful, having some acclaimed restaurants, shopping boutiques, and semi-cool clubs nearby will make "going suburban" a less bitter pill to swallow for many.  If these shops, gyms, and studios are pedestrian-friendly, that's even better.  Semi-urban suburbs like Alexandria, Bellevue, Walnut Creek, and Bethesda offer many of these attributes.  Granted, real estate there is by no means inexpensive, but these edge cities should be the beneficiaries of millennials' wishes to – incomes permitting - have their cake and eat it, too.  If the reputation of the millennial generation holds true, they'll figure out how to do just that in "hipsturbia."
Public transportation is valued on multiple levels – Building or acquiring projects close to public transportation in the suburbs should pay off by catering to the next generation worker. Even if this worker will increasingly be living and working in the suburbs several factors make convenient access to public transportation very valuable.  Although the recent trend favors suburbanization of millennials, several factors may keep them tied to the cities and wishing to commute frequently between downtown and the suburbs.  As indicated above, jobs may or may not out-migrate.  Commuting on LA, DC, and Bay Area freeways is more grueling than ever, and millennials are more inclined than their parents to be concerned about their cars' emissions contributing to climate change.  They are likely to place a higher value on the option of public transit.  Additionally, even if their job has followed them from downtown or they found a new position in the suburbs, many millennial suburbanites will have left friends, dentists, hairdressers, or their favorite bars and yoga instructors in the city.  They will value a convenient commute.  Lastly, a few die hard urbanites simply won't be able to bring themselves to leave the city.  In this case, placing employment centers near public transportation will allow the city dwellers to reverse commute to jobs in the suburbs.  This is a phenomenon that is growing more abundant.
Exploit the value gap – Given the attention paid to CBD properties, their appreciation has far surpassed that of suburban assets since 2010. Some of this is owing to investors' risk aversion, favoring the long-term price performance of downtown assets (see figure at right). However, a belief in the transformative power millennials would exert upon downtowns surely played a supporting role in driving down CBD cap rates. These factors have resulted in a 15-year record price gap between urban and suburban office properties. Although it appears that downtown office buildings have outperformed their suburban counterparts, their price volatility has been more severe. Furthermore, given the dramatic post-recession appreciation in CBD assets, what will drive further price increases? It is hard to fathom cap rates declining further. Also, if the millennial workers are looking to abandon the city at the same time that new buildings are being constructed to house them, can one rely upon income gains from downtown properties? In the same manner that demographics appear to be reverting to long-term prevailing trends, suburban commercial properties are a safer bet, banking upon a reversion to historical norms through a narrowing of the price gap to more typical levels.
Conclusion
All in all, it appears that the conventional wisdom that millennials are initiating a permanent trend towards urbanization is too simplistic and overblown.  While it is clear that metrocentric millennials have sparked a resurgence of the urban core, the idea that they've permanently forsaken the suburbs doesn't jibe with the data or stand up to closer scrutiny.  CBRE speculates that the notion that downtowns are surging while the suburbs are sinking derives from recent trends in several high-profile cities such as Washington, DC and San Francisco, along with the few anomalous post-recession years in which downtowns actually did outperform their outskirts.  The pendulum swings between the suburbs and the city, often in keeping with the economic tides.  It is now swinging back in favor of the 'burbs'.  Perhaps it will swing less far this time, but the savvy investor will recognize and benefit from these evolving demographics.
Just how big is the middle market?
NEWPORT BEACH, CA—Most people may not know that roughly 70% of commercial real estate is valued at $40 million or less, Buchanan Street Partners' Matt Doerr tells GlobeSt.com. Doerr was recently appointed VP of the firm to lead the company's growing bridge-loan platform under Buchanan Mortgage Holdings, the company's proprietary lending business. His appointment comes at a time of increased lending activity, following the recent closing of three loans totaling $30 million. We chatted exclusively with Doerr about the firm's bridge-loan program, which accommodates the middle market of commercial real estate financing.
GlobeSt.com: WHAT DO YOU HOPE TO ACCOMPLISH IN YOUR NEW ROLE WITH BUCHANAN STREET PARTNERS?                                                                       
DOERR: First off, I was very excited about joining Buchanan Street because they have a great reputation and history as an active capital-markets participant in both the debt and equity space. What was appealing to me was their creativity and full capital-stack conversancy, and the opportunity to help lead and build the debt platform. My goal is to further Buchanan Street's lending brand and presence within the western states and position our platform as a leading bridge/construction lender among sponsors and intermediaries. In this regard, we consider "sponsors" to be borrowers that are bringing forth a portion of equity and seek a larger portion of debt. Likewise, "intermediaries" is our term that represents the brokers that are in search of capital sources on behalf of borrowers. Moving forward, I hope to educate intermediaries and help them further their capital-solution options to their clients.
GlobeSt.com: TELL US ABOUT THE FIRM'S BRIDGE-LOAN PLATFORM AND WHY IT'S EXPANDING.
DOERR: Interestingly, most people may not know that roughly 70% of commercial real estate is valued at $40 million or less, within what is considered the "middle market." We have built our bridge lending practice to accommodate this significant borrower base and believe that private lending with an institutional-quality experience will be in great demand.
That's the backdrop, but more specifically to the current lending environment, Buchanan Street continues to see dislocation in the middle-market CRE lending space that is driven by an evolving regulatory environment and is impacting not only regulated banks, but also CMBS issuers and investors. As Dodd-Frank and Basel III implications continue to play out, more and more CRE owners/developers will seek flexible-debt platforms to provide reliable, custom-tailored capital solutions. Specifically, our product caters to a $5 million-to-$25 million loan request that can accommodate quick-close, bridge, acquisition and construction needs.
GlobeSt.com: WHAT INVESTMENT TRENDS DO YOU SEE EMERGING?
DOERR: We're still seeing experienced sponsors find interesting and accretive real estate investments, so opportunities do exist. However, finding reliable and predictable acquisition or bridge capital has been a challenge, given some of the reasons I mentioned. Well-capitalized and responsive lenders can add value by offering thoughtfully structured quick-close capital or by providing non-recourse construction financing to experienced developers. Lately we've seen the small- to middle-market construction financing market really tighten, which has pushed more requests to private lenders. For example, industrial real estate in the Inland Empire is in high demand right now. If a developer wanted to build industrial and could commit 25% of the construction costs, a few years ago a bank could have provided that financing. Now, because of HVCRE regulations and other drivers, a developer in this situation is likely to source non-recourse capital in the private lending space.
GlobeSt.com: WHAT ELSE SHOULD OUR READERS KNOW ABOUT PROPRIETARY LENDING?
DOERR: We are a significant real estate owner and operator ourselves, typically on larger asset sizes, and therefore we are an active user of debt. So, we have built a lending platform that's responsive to the broader CRE capital market environment, yet engineered to be flexible and provide sponsors and intermediaries with the certainty of execution that you need from a bridge lender. In today's market, it's important to understand a lender's level of discretion over their capital and their approval process. Sponsors and intermediaries should be aware that opportunities to secure bridge capital still abound, and they should align themselves with a proven lender.
BUCHANAN STREET PARTNERS EXPANDS BRIDGE LOAN PLATFORM, ADDS EXECUTIVE
Newport Beach, CA-based Buchanan Street Partners is expanding its bridge loan platform and adding a key executive. Matthew Doerr joined to lead Buchanan Mortgage Holdings, the company's proprietary lending business.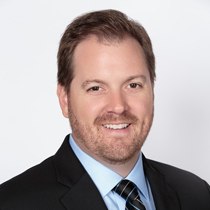 Doerr brings more than 13 years of experience underwriting and managing debt and equity assets in excess of $1 billion, including roles at MUFG's Union Bank and iStar Financial. He will lead the structuring and underwriting of loans originating from Buchanan Mortgage's balance sheet for acquisition, construction, redevelopment or project recapitalization across Western markets.
Buchanan Street Partners' Tim Ballard notes that recent regulatory changes imposed on banks by the Federal government provides an increased "opportunity to participate in space that was previously controlled by banks."
The company is experiencing increased lending activity, including three recent loans totaling $30 million.
Why this California investor wants to snap up more real estate in DFW
By Candace Carlisle
California-based real estate investor Buchanan Street Partners intends to keep snapping up properties in major employment hubs in Dallas-Fort Worth as companies continue to relocate and expand in the region.
"We are continuing to look for more investments in the Dallas market," Matt Haugen, vice president at Buchanan Street Partners, told the Dallas Business Journal. "People have seen what we have done with our current investments and we are becoming recognized in the marketplace as having an active ownership with very responsive, thoughtful investors."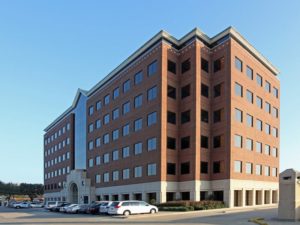 The two-building office complex sits adjacent to Dallas Love Field and was recently acquired by Buchanan Street Partners as part of a larger investment strategy.
Haugen said within the investor partnership at Buchanan Street Partners there's been a strong interest in Dallas-Fort Worth. In the last 16 months, Buchanan has acquired four office properties in central employment areas in North Texas.
Recently, Buchanan purchased Bluffview Towers, a two-building, 196,356-square-foot office complex at 3860 and 3890 W. Northwest Highway near Dallas Love Field Airport from Commercial Developments International for an undisclosed sum.
The firm wanted to acquire the property because of the increased passenger traffic at Dallas Love Field as executives take advantage of the close proximity of the airport to Dallas' urban core after the expiration of the Wright Amendment. Buchanan plans to put capital into overhauling the lobby and common areas of the building.
Compared with Preston Center office rents, Bluffview Towers has a normal delta of $6 per square foot to $8 per square foot rental rate, which will attract companies looking to land in close proximity to the airport and executive homes, Haugen said.
"Dallas is such an important market to us really because of job growth," he told me. "You need job growth to really enhance rental rates and year-over-year job growth in Dallas is 4.6 percent, which is far ahead of the national average and one of the critical numbers we look for when we make an investment."
Haugen said the investment firm would like to buy two additional properties by the end of the year in Dallas. That bullish investment is expected to continue into next year as Dallas maintains a sustainable trajectory of moderate growth, he added.
With limited new construction, in part because banks aren't willing to lend on many speculative projects, there's a rush on buying existing commercial real estate.
"Companies are coming out of California and into Texas and so we see a long-term viability into buying and investing in this marketplace," he said.
EXPIRATION OF WRIGHT AMENDMENT PROPELS AIR TRAFFIC
By Lisa Brown
DALLAS—The law expiration is drawing more corporate users seeking proximity to the airport and executive housing communities such as Bluffview and Preston Hollow.
According to Buchanan Street Partners, Dallas Love Field experienced an 87% increase in passenger traffic year-over-year in September 2015. This increased activity followed the October 2014 expiration of the Wright Amendment, a 1979 federal law that limited long‑haul flights out of the airport.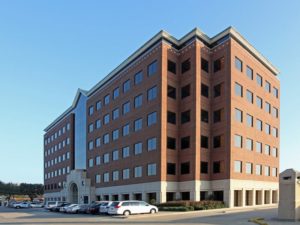 Bluffview Towers, a 196,356-square-foot two-building office property adjacent to Love Field Airport has been acquired by Buchanan Street. The Love Field traffic bump-up prompted Buchanan to purchase the buildings for an undisclosed amount from Commercial Developments International (CDI).
"We have noticed a significant change in the area surrounding Love Field. The surge in traffic and business at the airport was a major factor in the buildings' purchase," said Matt Haugen, vice president at Buchanan Street Partners. "We anticipate local expansion as corporations view this area as a more preferred location, both for daily commutes and accessibility to the airport for business travel."
Bluffview Towers is located at 3860 and 3890 West Northwest Hwy., near the affluent Bluffview and Preston Hollow neighborhoods, within three miles of Preston Center, an 800,000-square-foot retail and dining center. Bluffview Towers is currently 82% occupied with several long-term tenants. The property features an Embassy Suites hotel on site, which was not included in the purchase. Buchanan Street has plans for lobby improvements and tenant common area upgrades to bring the project up to class-A standards.
Haugen tells GlobeSt.com: "Additionally, the rapidly growing rental rates in Uptown and Preston Center have caused the options around Love Field and specifically Bluffview Towers to become an attractive option for users that want to locate in the area for a more affordable price. We are going to reposition these buildings and bring them up to a first-class standard. It seems these two buildings have flown under the real estate community's radar, and we plan to leverage the growth at Love Field to elevate the building and put it on the map as another Buchanan Street building in Dallas. We believe in the Dallas market."
The Wright Amendment limited flights between Love Field to airports only within Texas and its four neighboring states: Arkansas, Louisiana, New Mexico and Oklahoma. Its expiration allows flights into Love Field from major cities such as New York, Denver, Los Angeles and Washington, DC. It is expected to draw more corporate users seeking proximity to the airport and executive housing communities such as Bluffview and Preston Hollow.
The Bluffview Towers purchase marks Buchanan's fourth acquisition in the Greater Dallas area in the last 16 months. Buchanan Street also recently purchased several other buildings that are poised for growth as a result of positive absorption and infrastructure improvements. The properties include Tollway Plaza, a prominent two-building property in Addison, TX, Richardson Office Center I & II in Far North Dallas and Granite Tower in Northwest Dallas along LBJ Freeway.
Jack Crews, Evan Stone and Lauren Zimmer of JLL represented CDI in the transaction, while Buchanan Street represented itself.
WILL CMBS UNCERTAINTY IMPACT VALUATIONS?
By Robert Brunswick, CEO of Buchanan Street Partners
NEWPORT BEACH, CA—As the CMBS market continues to slow, how will the capital markets sector be affected? Buchanan Street Partners' Robert Brunswick weighs in on the subject EXCLUSIVELY with GlobeSt.com.
Much has been reported about the CMBS market continuing to slow, plateau, freeze—fill in your own verb. GlobeSt.com spoke exclusively with Robert Brunswick, CEO of Buchanan Street Partners, to get his take on how this trend is affecting the capital-markets sector now and in the future.
GlobeSt.com: As wider spreads translate into higher costs for borrowers on CMBS loans, what alternative financing solutions are coming available?
Brunswick: When we talk about CMBS, we first need to frame what it has brought to the real estate markets and where it might be lacking. The advent of CMBS brought much-needed liquidity and additional participants to the debt markets­—both improving liquidity to the market and further validating real estate as an asset class in terms of investor fluency and their ability to assess risk and return. In turn, real estate debt through CMBS now competes with capital flows to other asset classes and the greater volatility of the liquid markets. Geopolitical issues, market cycles, rating agency moods, increased regulatory requirements and past CMBS performance all affect the day-to-day pricing of new origination and resale and purchase of existing bonds. Therefore, we need to be careful to not overreact when CMBS goes down or up since it is not an indicator of the demise of CMBS but instead recognition of the variables that impact its daily pricing.
In the past few years, we have seen a reduced volume of new issuance of CMBS, due in part to what happened with prior performance of CMBS and in large part due to real estate's devaluation in the last cycle. Rating agencies were questioned as to their objectivity and the bond's ultimate performance. Where are we today? CMBS bonds now have to compete with all other asset classes and types of bonds, and with that there is a more disciplined assessment of its associated collateral and cash-flow predictability. It's currently difficult to provide borrowers with a predictable rate within the CMBS market until the loan is ready to close, thus limiting current origination volume. Further, banks and life insurance companies are much more active in their availability today, offering borrowers more predictability of outcome. Additionally, there is a trend for many buyers of real estate to de-lever (or bring in more equity to) their acquisitions and real estate, which plays more into the hands of the life- insurance companies and banks.
A majority of CMBS originations have catered to those borrowers seeking higher leverage to satisfy a refinance, a secondary or tertiary market consideration, or reduced equity position on assets that might not fall into a bank or insurance company's lending parameters. CMBS has historically financed riskier assets, and with rating agencies starting to now see slippage in underwriting quality, and with the pending new risk‑retention rules for CMBS taking effect in December under the Dodd-Frank Wall Street Reform and Consumer Protection Act, the bond-buyer market has become skittish, limiting originator capabilities.
With this uncertainty, many private lenders (shadow banks) are being formed and/or becoming more active to provide capital for the potential shortfall. We ourselves have set up a private-lending vehicle to provide a predictable capital source for those transactions that have good sponsorship, are properly sized, might require some structure but couldn't go through a conventional CMBS underwriting or do not have the necessary time to wait. The private-lending market can be an interim source of capitalization for many borrowers, but it's not a long‑term solution. As people fix their assets' problems or buy assets and stabilize them, interim financing can be a short-term solution, but not a long-term one because the property cannot withstand the higher yield associated with these types of loans. This ultimately creates a lower-priced source of capital available to those buyers. To fuel this type of lending, many investors are eyeing the debt space since it affords a more predictable yield with tangible subordinate equity.
There are roughly $250 billion of CMBS loans maturing between 2016 and 2018. If the property is not sold, the refinance lender is either the new CMBS market or a private lender who might accommodate the transitioning nature of the asset. Interestingly, though, a lot of prior CMBS borrowers have defeased their loans early given the attractive refinance markets, brought in more equity and are now refinancing through banks and insurance companies. We have to recognize that CMBS, for most borrowers, has never been the first choice.
GlobeSt.com: What does the uncertainty in the CMBS market mean for buyers and sellers of commercial assets? What does it mean for asset values?
Brunswick: For every transaction, only 10% of the market uses CMBS. I would draw the conclusion that CMBS by itself is not going to drive down valuations or cause them to pause. There are other factors, such as the greater economy, the lack of significant growth in rent rolls, the over-exuberance of pricing as investors are wanting to put their money to work and get some yield. But this is a levered asset class, and as leverage is reduced, that will mean less yield on your equity. You're either going to be willing to accept lower leverage with less yield on equity, or sellers will have to be more realistic on pricing their assets given the reduced leverage that is available to buyers. A slowdown in sales is not solely attributed to the debt markets; it's a variable. You can put your money to work in other asset classes that might be better priced to get the yield you thought you were getting in real estate. Real estate appreciated too quickly.
GlobeSt.com: What does this turmoil mean for borrowers as originators stop making CMBS loans because it's now dramatically more difficult to price loans due to the inability to predict the future cost involved?
Brunswick: Most borrowers who use CMBS either have a relationship with a particular lender or they have a higher-leverage requirement, and CMBS is their only option vs. going to a bridge lender who might charge more. Spreads have actually reduced recently as the bond buyers have come back into the market a little bit. They were in the 350 range, and are now 310 to 320, depending on the asset. It's becoming a known reality that if you do a CMBS loan, you have to live with the volatility of not knowing what your rate is going to be until you close. That's a tough presentation for borrowers as they want certainty of pricing. It's creating volatility on the buy/refinance side, and it means that these borrowers will have to put more equity to work and accept some volatility.
GlobeSt.com: What else should our readers know about alternative financing solutions and CMBS?
Brunswick: A lot of folks are now saying they'd rather be in the debt seat than in the equity seat. They will put more in debt until they get comfortable with the valuations of CRE or debt yields are driven down on the private side. There will be varied debt players who will start to backfill the capital markets as their investor base reconciles this mispricing and opportunities present themselves, and investors recognize that the risk-adjusted yield is more attractive on the debt side than the equity side at the moment. CMBS is not going away. It will come and go as capital does and as the market adjusts. The market is pretty smart and will price and adjust accordingly.
The Playbook is Changing for High-Volatility Loans
By Robert Brunswick, CEO of Buchanan Street Partners
Last year, the Federal Deposit Insurance Corp. (FDIC) implemented its Regulatory Capital Rules, a new set of directives intended to address regulatory deficiencies that contributed to the 2008 banking collapse. The regulations impose significant limits on bank acquisition, development and construction (ADC) loans, and create an opportunity for loan originators, specifically nonbank lenders, to expand their ADC offerings.
The most notable change requires banks to increase the amount of capital set aside for ADC loans that exceed loan-to-completed value standards or do not comply with minimum real-cash equity investments. The nonconforming loans affected by these regulations are characterized as High Volatility Commercial Real Estate (HVCRE) loans. The new laws were first released in October 2013 and implemented at the start of 2015.
The new reality
Banks that were major players before the recession have returned to the market, but on a limited and inconsistent basis. Lenders have been producing ADC loans at a significantly lower volume than the peak in 2007, causing a decline in the market share of ADC loans originated by regional and community banks.
Under the Regulatory Capital Rules, banks must categorize an ADC loan as HVCRE if it fails to meet several conditions. Chief among them are the following: The borrower has contributed at least 15 percent of the appraised-as-completed value of the asset before receiving bank financing; and the loan-to-value ratio of the financing does not exceed 80 percent. Also, loans for land development must not exceed 75 percent LTV.
This new ruling affects bank offerings on HVCRE loans nationwide, limiting borrowers' access to capital — and leaves the door open for private lenders to swoop in, especially those able to serve unmet demand with flexible loan structures and efficiency.
Clarifying the rules
The FDIC has issued clarifications of the law over the past year. First, if a loan is initially classified as HVCRE financing, it remains so until the acquisition, development and construction loan is refinanced with a permanent loan. Nonetheless, a loan cannot be classified as permanent if it is based on the "as completed" value of the project. Furthermore, these clarifications included a distinction between the "as completed" and "as stabilized" values, so that the latter value cannot be used to determine whether a loan meets the definition of HVCRE financing.
Clarifications also established that borrowers may not withdraw capital generated internally by a property during the term of an HVCRE loan. Neither unrelated real estate assets nor grants from state, federal or municipal governments, or nonprofits can be included as part of the borrower's 15 percent equity contribution; and preconstruction deposits on condominiums cannot be counted as a borrower-equity contribution.
Also, junior liens collateralized by the property, cannot be considered part of the 15 percent contribution. It is not clear yet whether mezzanine loans secured by partnership interests and originated by a lender unrelated to the bank will circumvent this rule. Borrowers are, however, permitted to include land contributed to a development project as a part of the required capital. The value of this contribution must correspond to the borrower's real-cash equity in the land. For example, if a borrower purchased a site in 1980 and since entitled it, the cost basis is the original land purchase price plus the entitlement expenses. This is a major shift in bank regulations, creating a void that can only be filled by nonbank construction lenders.
A borrower's contributed capital can include soft costs, such as brokerage fees, marketing expenses or costs of feasibility studies. Project costs paid to related parties for developer's fees, leasing expenses and brokerage commissions, and management fees may be included in the soft costs — provided they are reasonable in comparison to fees paid to third parties for similar services.
The new regulations do not preclude banks from originating HVCRE loans. In the wake of their implementation, however, some banks may determine that HVCRE loans will not generate sufficient returns as compared to alternative investment options because of the additional costs associated with higher reserve requirements. This situation presents greater opportunities for flexible, nonbank lenders to move into the space.
Impact on Lending
The regulations have created a competitive advantage for private lenders in funding high-leverage construction loans, construction mezzanine loans, and highly structured bridge and land-acquisition financing.
A study by Joseph Rubin, Stephan Giczewski and Matt Olson of Ernst & Young LLP pointed to several significant effects of the new regulations:
Higher capital requirements from the borrower could result in banks shifting assets away from the commercial real estate sector;
Interest rates could increase to account for the increased costs; and
Borrowers may be forced to shift to higher-cost private lending sources.
Capital advantage
Although the new capital regulations impose limits on bank lending, banks are not out of the picture. According to the Ernst & Young study, a minority of commercial real estate loans are likely to fall into the definition of HVCRE because banks already avoid loans with LTVs of 80 percent or above, and most borrowers acquire development sites simultaneously with, or just prior to, the closing of the acquisition, development and construction loans.
Even among nonbank institutions, there are relatively few lenders that specialize in loans with LTVs above 80 percent. But there is demand for such loans, as well as opportunities for nonbank lenders. Their biggest advantage is the ability to structure flexible debt more quickly than banks, and commit to deals while banks are still evaluating them.
Some other situations where nonbank financing is a good fit include:
A borrower has owned the land for a significant period of time, but has a very low real-cash basis;
An asset has increased in value because of rezoning, or the entitlement process;
A borrower seeks more than 80 percent of cost-construction financing for a preleased, investment-grade, credit-tenant building;
A borrower requires cash out from unit sales to fund unrelated projects — for example, a situation in which a condominium developer previously arranged an 80-20 percent split of unit-sale proceeds to pay a principal or dividends; and
A bank rejects a borrower's assertion that developer's fees included as part of the contributed equity are justified by the market (a standard that has yet to be defined by regulators).
CADENCE CAPITAL INVESTMENTS PICKS UP SEVEN-PARCEL ASSEMBLAGE IN HOLLYWOOD FOR NEW GELSON'S MARKET
Cadence Capital Investments purchased five buildings on Sunset Blvd in Hollywood with plans to deliver a multi-story building that is pre-leased to upscale regional grocer Gelson's Market. The purchase was funded with a $12.9 mil loan provided by Buchanan Street Partners.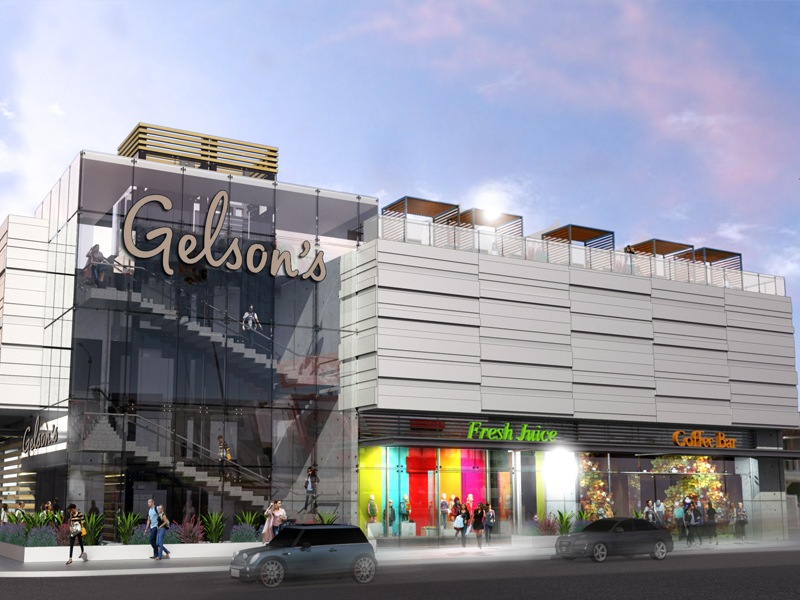 Gelson's choice for the seven-parcel assemblage was based on the location's high traffic count, at the intersection of Sunset and Gardner St, plus affluent area demographics. The new store location will be Gelson's second in Hollywood, following the success of its West Hollywood store. A first quarter 2018 opening is planned.
"This was an attractive investment because of the project's irreplaceable location in an area of Hollywood that is experiencing substantial redevelopment and revitalization," said Mark Reese, vice president of Buchanan Street Partners. "Cadence Capital Investments is working on a truncated timeline to meet the increasing demand in the surrounding neighborhood."
A low retail vacancy of 4.4 percent in the West Hollywood market speaks to the high demand by retailers, punctuated by lease rates of approximately $60 per-square-foot. The immediate neighborhood is undergoing a redevelopment renaissance, with new retail shops, restaurants and mixed-use developments either in progress or planned.
"As we grow our active lending platform, this high profile project was the perfect transaction to kick off 2016," said Reese. "There is currently an increase in opportunity for private lenders to provide acquisition, development and construction loans due to regulatory changes imposed on banks by the Federal government."
Buchanan Street has invested and structured approximately $17 bil on behalf of institutional and private investors across a broad range of equity and flexible debt real estate investments throughout the United States. In the last year, the company has funded more than $77 mil in loans in Nevada, Oregon, California and Arizona.
BUCHANAN LOOKS TO SECONDARY MARKETS FOR YIELD
By Kelsi Maree Borland
LOS ANGELES—The investor buys the Gateway Corporate Center in Diamond Bar, saying the market and surrounding markets, like Pomona and West Covina, are "historically very stable."
Buchanan Street Partners has purchased the Gateway Corporate Center in Diamond Bar from Cornerstone Real Estate Advisers, an affiliate of an institutional buyer. The sales price was not disclosed, however, sources unrelated to the deal say that the investor purchased the property from $44 million. While this is Buchanan's first Diamond Bar purchase, it knows the surrounding areas well and was attracted to the purchase for the strong location.
"This submarket is historically very stable and remains well occupied relative to other submarkets in Los Angeles, and we think that is largely a function of its central location and the ability of employers to draw employees from a lot of different areas surrounding this property, whether it is from L.A. County, Orange County or the Inland Empire," Chris Herthel, SVP at Buchanan Street Partners, tells GlobeSt.com. "That is what initially attracted us and we don't think that will change in the future. We have been active in this market, and we will continue to look for additional opportunities."
Buchanan Street focuses on the second-tier market, where Herthel says that they can buy below replacement cost with less competition than more primary Los Angeles markets. "We are very active in mid-market properties when it comes to size, so that is anywhere from $30 million to $50 million in high-quality office properties throughout the US," he adds. "This property fits that profile perfectly. It is a good size, and it is best in class in a good infill stable market that produces consistent cash flow out of the box. There are some improvements to be made as well, whether it is through renovation or a little bit of lease up. This property really checks all of those boxes."
The property is in good condition and has been institutionally owned and maintained. It has 94% occupancy, so there is some upside with room for additional leasing and to push rents. Herthel says that the may also do some light renovations to the lobby and other common areas as well as the building systems. The investor will hold the property in the medium term, as is typical for its investment strategy.
Jeff Cole and Ed Hernandez of Cushman & Wakefield represented both the buyer and the seller in this transaction.
PARADISE VALLEY CORPORATE CENTER SELLS FOR $37.4M
The Paradise Valley Corporate Center, near Cactus Road and Tatum Boulevard, sold for $37.4 million to a California-based real estate investment firm.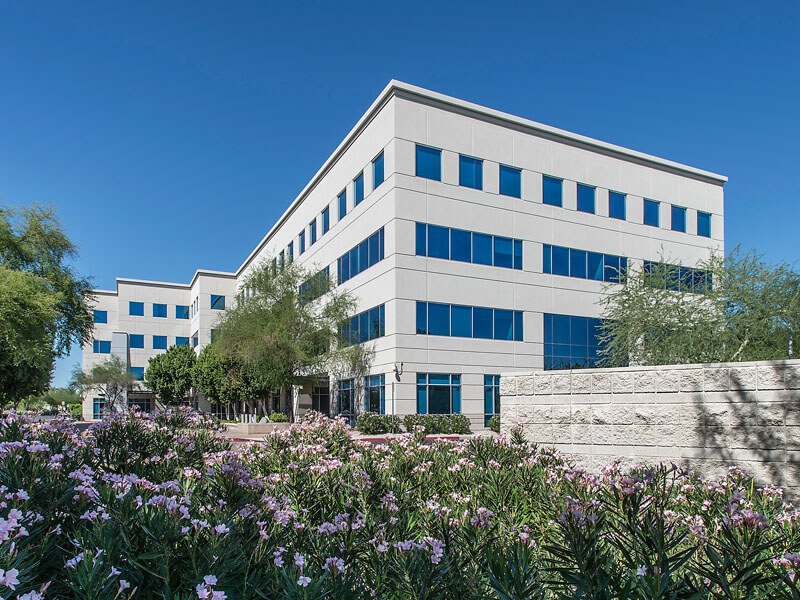 Cushman & Wakefield's Executive Director Chris Toci and Director Chad Littell negotiated the sale to Buchanan Street Partners, and no other outside broker was involved.
The office complex is currently 94 percent leased.
Paradise Valley Corporate Center is a Class A office project in the Scottsdale and Paradise Valley are, and has access to about 2.3 million square feet of walkable amenities and easy freeway access, Toci said.
The 4-story Paradise Valley Corporate Center was built in 2002, and has 198,534 square feet of office space, featuring large, flexible floor plates, spacious lobbies, ample glass lines, and an onsite deli.
"The property enjoys immediate access to approximately 2.3 million square feet of walkable amenities, convenient freeway access, an attractive Scottsdale address, and is surrounded by the highest demographics in metro Phoenix," said Mr. Toci. The demographics in Scottsdale/Paradise Valley are the highest in metro Phoenix with average annual incomes of $109,000 in Scottsdale and $132,000 in Paradise Valley.
RICHARDSON OFFICE CAMPUS SELLS TO TWO INVESTORS
By Steve Brown
An investment partnership has purchased a 2-building office campus in Richardson's Telecom Corridor.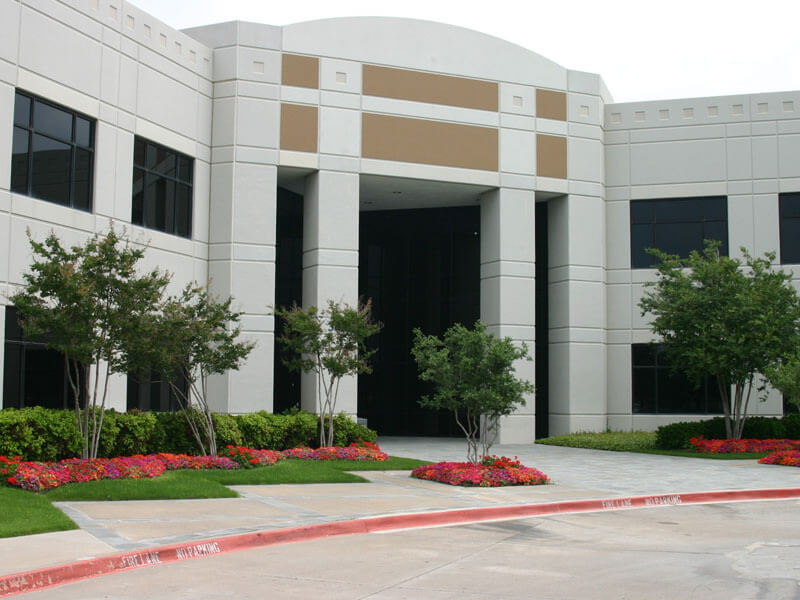 Buchanan Street Partners of California and CarVal Investors of Minnesota teamed up to purchase Richardson Office Center I & II, a 238,301-square-foot campus located on Bush Turnpike.
The new owners plan to renovate the buildings, which are 90 percent leased to tenants including Boeing, Genpact and Avnet. "The location was one of the main reasons we were attracted to the property," Buchanan's Matt Haugen said in a statement. "Companies in search of a better real estate value have moved to Richardson because of its affordability and projected growth."
The buildings are Buchanan's second purchase in the Dallas area this year and were acquired from Principal Real Estate Investors. Terms of the acquisition were not disclosed. Gary Carr and Robert Hill of commercial real estate firm CBRE brokered the sale.
Buchanan has been in business since 1999 and recently purchased the Granite Tower on LBJ Freeway in Farmers Branch. CarVal Investors was originally a unit of agricultural giant Cargill. It became an independent subsidiary in 2006.
The Richardson Office Center sale is just the latest in a series of high-profile building purchases in Richardson. With thousands of new jobs moving to the area, investors are snapping up office properties in homes of capitalizing on rising rents.
SMALLER, PRIVATE REAL ESTATE INVESTORS PUSHED OUT OF SAN FRANCISCO FLOCK TO OTHER BAY AREA MARKETS
By Cory Weinberg
Buchanan Street Partners' origins may have started on its namesake road in San Francisco's Marina District, but the private real estate investor has avoided office purchases in the city since 2008. Instead, it's focused on making $15 million to $40 million buys in cheaper markets such as Ontario, California and Mesa, Arizona.
Now based in Newport Beach, the investment firm has jumped back into the Bay Area by buying office parks in less-sexy markets. It paid about $25 million each for two office parks in the region in the last two months: Rowland Plaza in Novato and the South San Francisco Business Center.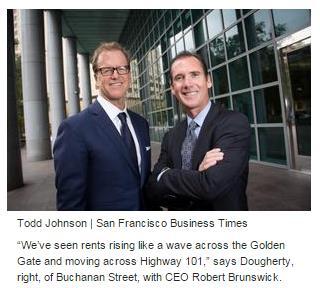 Robert Dougherty, a partner at Buchanan Street, said the properties fit the firm's profile as a "special-situations buyer" that "doesn't have billions of dollars to put out where we'll pay market (rent) at whatever price."
"We didn't like the entry points we found in 2011 and 2012, and it took us a while to find the right place to get back in," Dougherty said. "The Bay Area has been overpriced as a whole."
Private real estate investors like Buchanan typically don't have as much money to throw around as real estate's big boys: publicly traded investment trusts, overseas buyers or institutional investors like pension funds or insurance companies.
But smaller investors have been finding more mid-market buys lately — purchases that range between $15 million and $40 million — according to research firm Real Capital Analytics.
As of mid-July, private investors are on pace to make nearly $900 million worth of mid-market office buys in the Bay Area this year, up from about $600 million last year and $400 million in 2012 and 2013. Less than a third of that is on pace to be in the city of San Francisco, with the remainder funneling into the Peninsula, North Bay, East Bay and some Silicon Valley cities.
Across the region, private investors have made the most mid-market office deals this year, representing 40 percent of buyers. Institutional investors made up 32 percent of the buys, according to Real Capital Analytics.
But while private investors have been selling more than buying in San Francisco proper in recent years, other markets are picking up the slack.
As office rents continue to rise, the Bay Area's outer markets open investment doors to buyers looking for higher yields at lower prices, said Al Pontius, senior vice president of commercial property groups at Marcus & Millichap.
"Those communities and assets today are interesting. Twelve to 24 months ago, there would have been no interest," he said. "There's an expansion in the range of acceptability, and that's coupled with a better yield that they could get."
While investors may not want to "pay the freight" to invest in San Francisco, they have a bigger appetite for markets "considered riskier," Pontius added.
In San Mateo County, average asking rents in the county were up 10 percent year over year last quarter, rising to nearly $48 a square foot each year. Smaller companies have also started to flock to the East Bay after getting priced out of San Francisco.
The North Bay is also gaining strength. Last quarter, Novato drew a $16 million buy of a 87,268-square-foot office building from private investor Ellis Partners.
The North Bay office market boasts its lowest vacancy rate (14.5 percent) since 2007, according to the brokerage DTZ. Though average asking rents have mostly stayed flat at $24 a square foot annually in the North Bay, they don't come near to justifying new construction, and the area's restrictions on development curb new office competition.
Dougherty of Buchanan Street said the 143,444-square-foot Novato office project Rowland Plaza is about 32 percent vacant, and it will get some renovations. He said he'd like the plaza, which is made up of government and healthcare tenants, to add technology or biotech firms to the mix.
"We've seen rents rising like a wave and it's emanating across the Golden Gate and moving across Highway 101," he said. "In Marin, tenants are migrating north because they're getting priced out of these southern Marin markets."
BALLARD: 'HIGHER RETURNS' IN SAN ANTONIO
By Anna Caplan
SAN ANTONIO, TX—While the San Antonio market may not get the same attention as Texas' major markets, Tim Ballard, co-founder and president of Newport Beach, CA-based Buchanan Street Partners, believes in the South Texas city.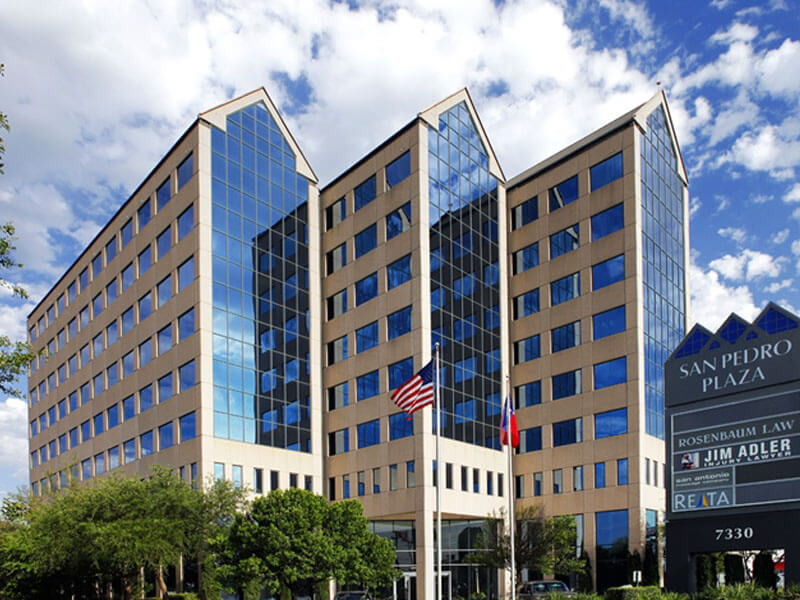 "The San Antonio office market continues to experience slow and steady growth," Ballard told GlobeSt.com. "Many other Texas markets have much higher levels of growth that causes investors to buy based upon aggressive expectations of future rents and values. Due to the less robust forecast for future growth in San Antonio you have an opportunity to achieve a higher current return in the form of cash flow versus aggressively betting on the significant value appreciation."
Ballard and his firm recently announced its fifth purchase in the market: San Pedro Plaza, a 163,764-square-foot office building located at 7330 San Pedro Ave. Buchanan Street will make extensive improvements to attract new tenants during a time of positive absorption in the region.
"We are currently in the design phase of extensive physical upgrades for San Pedro Plaza, and are anticipating construction completion within six months," Ballard says. "We plan to bring the building out of the 1980s and into the 2010s with $4.5 million in improvements, which includes a significant portion dedicated to TI packages."
Buchanan Street plans to significantly upgrade the lobby, restrooms and common areas. Additionally, Buchanan will be removing an adjacent retail building in order to provide more convenient access and additional surface parking. The building is currently 30 percent vacant with available suites ranging from 1,000 square feet to 18,000 square feet.
San Pedro Plaza is located in the North Central submarket near the intersection of Loop 410 and San Pedro Avenue; it is also less than 10 minutes from San Antonio International Airport,Alamo Quarry Market and North Star Mall.
Barbara Emmons and Todd Mills of CBRE represented the seller in this transaction. Buchanan Street represented itself.
PACIFIC NW CAPITAL MARKETS ARE ON FIRE. HERE'S WHY.
By Dees Stribling
The lending volume for commercial deals in major markets of the Pacific Northwest is going to see "a significant increase" in the near- to mid-term, Buchanan Street Partners VP Mark Reese tells us. He gave us two major reasons.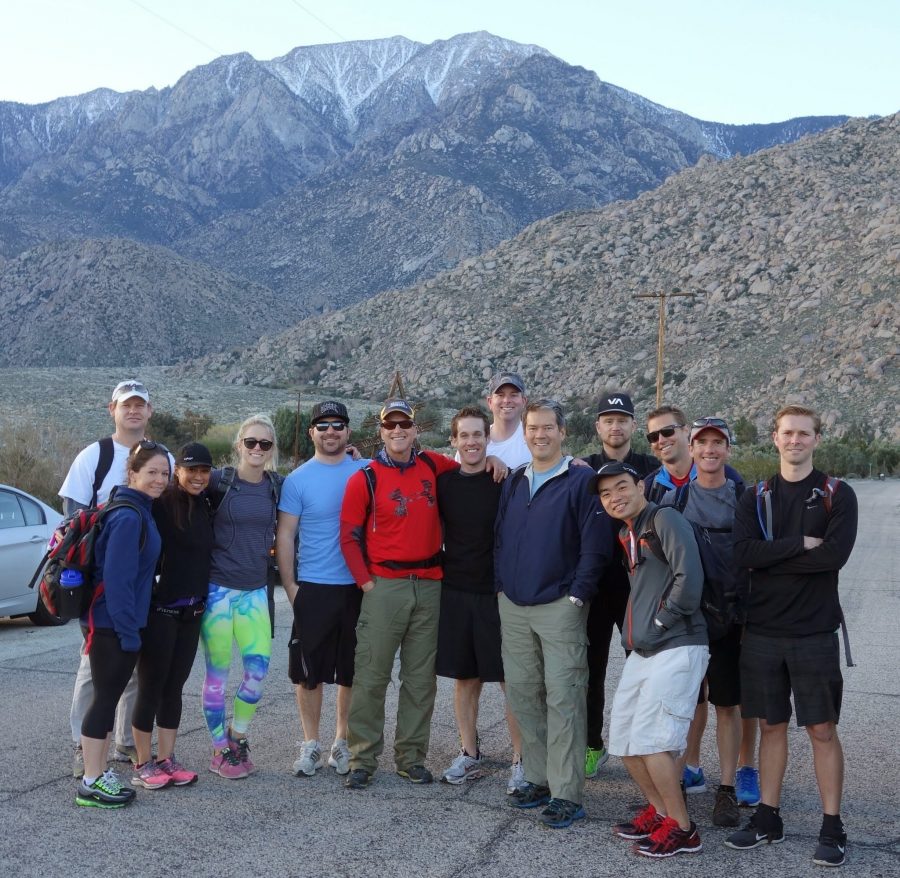 The Fundamentals Are Right
Mark (snapped with Buchanan colleagues during a recent company hike in Palm Springs, CA) tells us the strong economy of the Pacific Northwest is causing tenants to expand and look for new space to attract and retain talent—not only in Seattle but also Portland and other regional markets. Also, tenants are flocking from their existing traditional offices to creative spaces, seeking a positive influence on their corporate culture. More flocking means more lending.
Changes in the Banking Industry
Mark adds that non-bank lenders (such as Buchanan) expect to see an increase in their volume as traditional bank lenders become more conservative due to stricter bank regulations. "Bank lenders today are focused on stabilized properties with strong in-place cash flow," he says. "This leaves a void for borrowers seeking to finance value-add acquisitions." Recently Buchanan closed a bridge loan for the acquisition of the 68k SF 2815 South West Barbur Blvd in Portland; the borrower, Run Our Dream, will transform it into creative space for the athletic apparel brand Under Armour.
VCN PLANS MIXED-USE DEVELOPMENT
By Kelsi Maree Borland
CULVER CITY, CA—Developer VCN has purchased the Surfas Culinary District in Culver City, CA, with plans to develop a 100,000-square-foot mixed-use property on the site. The developer purchased the property for $16 million and has secured a $10.2 million loan through Buchanan Street Partners' high yield lending program to fund the development.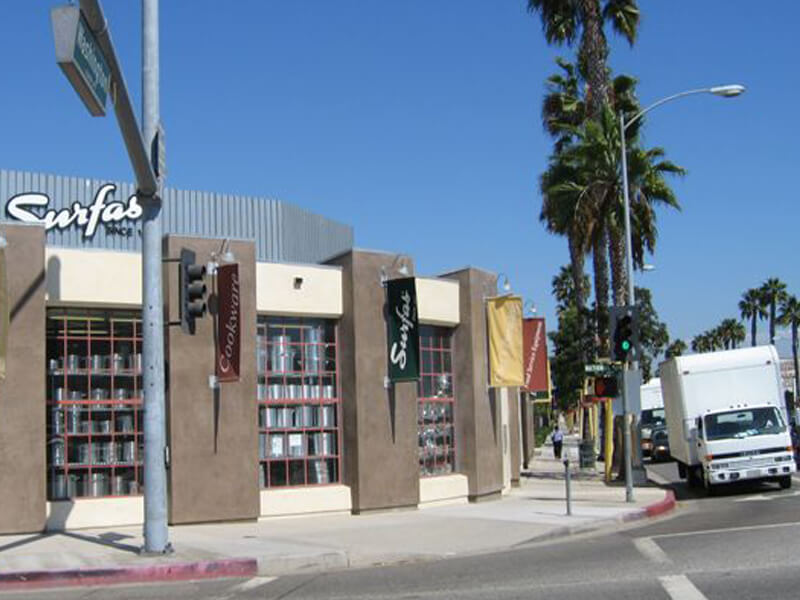 "Culver city is going through a massive renaissance that has attracted a significant amount of world-class creative office users, new restaurants and residential development," Tim Ballard, president of Buchanan Street Partners, tells GlobeSt.com. "With that, many existing properties are being redeveloped to meet today's tenant demands. The subject property is in a premier location, which has a lot of development or redevelopment in the immediate area that will be very attractive to office, retail and residential tenants."
VCN plans to take advantage of the area's high-density and mixed-use zoning in the area. The property is located at the intersection of Washington Blvd. and National Blvd., at 8777 Washington Boulevard in Culver City, near the EXPO light rail line. While the developer secures entitlements for the planned property, the Surfas Culinary District, who sold the site to VCN, will occupy a 13,206-square-foot retail property on the site.
Buchanan Street funded an 18-month term loan with a 65% loan-to-value. For Buchanan Street Partners, this is a relatively low loan-to-value. "Given the quality of the location, it was a very attractive basis," says Ballard. "We are looking to provide capital to borrowers who have unique assets that aren't readably financeable by banks, such as non-cash flowing assets, assets in transition, or assets that need a secure understanding of real estate to correctly identify the background and opportunity of the property. We finance "story" deals."
Buchanan Street's high-yield lending program is specifically designed to provide funding for developments during the entitlement phase, which made VCN a great fit for the program. "VCN has a unique ability to pull this type development to foliation," adds Ballard about why the developer is a great match. "This particular project was in need of a lender that had the ability to understand VCN's vision for the development in order to effectively underwrite the loan."