DEAL VOLUME'S DOWN, INTEREST RATES ARE UP: CONSERVATIVE LENDING IS THE NEW NORMAL
Borrowing and lending for commercial real estate deals is hardly dead in the water, but it is not as active as it was only a year or two ago, as interest rates have crept up and transaction volumes are down.
Essentially, there is a more conservative mood in the capital markets, according to the speakers at our Orange County Capital Markets & Investment Forum. Both borrowers and lenders are feeling it, especially as the outlook for rent growth in multifamily is not as robust as only a few years ago.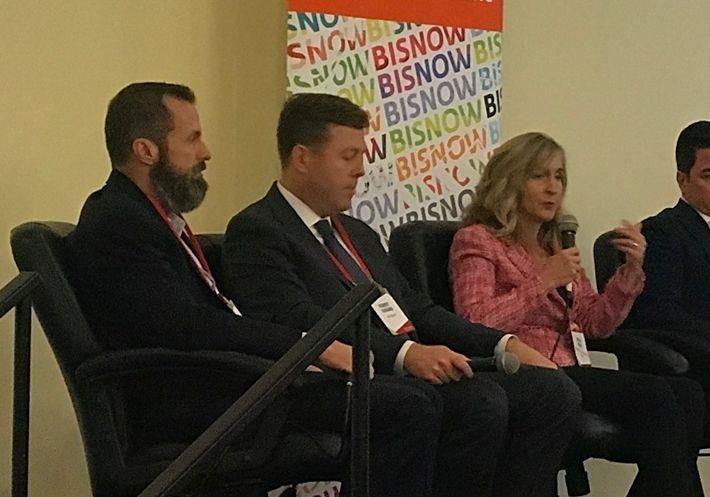 Despite the more conservative mood, new players are trying to squeeze into the game. One recent development in CRE lending is the rise of large debt funds aiming to take up some of the slack caused by more conservative attitudes among banks and other lenders.
The Bascom Group Managing Partner Jerome Fink, whose company buys value-add
multifamily and renovates it, said agency lenders were extremely active about four years ago, and banks were lending at 65% loan-to-value and 250 basis points over Libor. That was the universe of lenders for value-add acquisition loans.
"Today, you see an explosion of lending among the Blackstones and Starwoods of the world," Fink said. "They're out there raising big debt funds. The big banks aren't as aggressive or active as they once were. For one thing, they have debt-yield tests that are harder to get over."
The debt funds are lending at 65% to 75% bridge loans in the range of low-300 basis points over Libor, Fisk said.
KBS Realty Executive Vice President Finance Robert Durand, whose company specializes in office projects with relatively low leverage, said as interest rates have gone up, spreads have come down.
"The market for higher-leveraged deals, which involves transitional assets at 65% to 70% leverage, has gotten very competitive in that last 12 months," Durand said. "As banks have become a little more conservative, a lot of other players have come into that space. It's been an interesting transition to watch."
Farmers & Merchants Bank Senior Vice President and Regional Relationship Manager Kathy Reed said her bank lends across the board, but also has a niche in nonprofit. As such, Farmers & Merchants is not facing such stiff competition from debt funds.
"Our borrowers are high net worth individuals and smaller developers," Reed said. "From four years ago to today, our underwriting hasn't changed. We're still a conservative, low loan-to-value, 50% to 60%."
Still, there is competition from other banks in the space. "They're giving away on rate, and on LTV, and that concerns us a bit."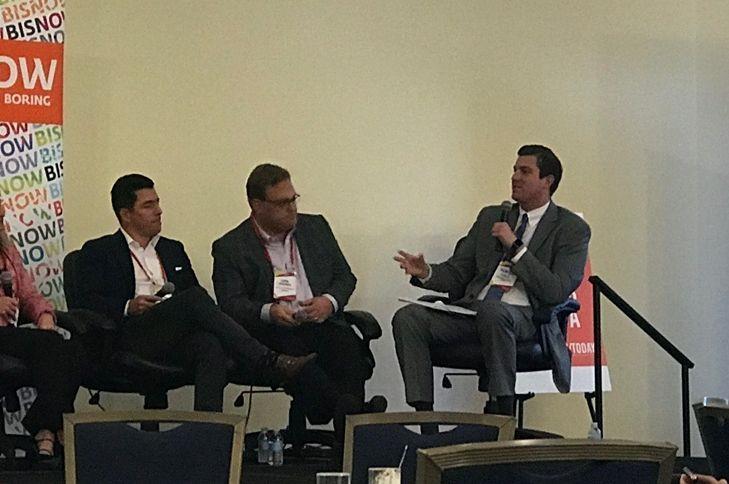 Rialto Capital Director, Commercial Properties Group California Jeremy Griffin, whose company has about $5.5B of assets under management, said in 2012 and 2013, Rialto took a little more leverage in its deals than now, because there was higher projected net operating income growth in those days.
"We pushed the envelope in a few deals, up to 70% to 75%, but as the cycle has progressed and is getting longer in the tooth, we've ratcheted that down accordingly," Griffin said. "In office and industrial, we cap out at about 65%, and 70% in multifamily, so that means we're talking mainly to banks and a few debt funds that can offer attractive pricing."
Pacific Life Insurance Co. Managing Director of Commercial Mortgage Investments John Waldeck, whose company specializes in large construction loans, said the market for that kind of lending is not so different now than four years ago, though there is more competition.
"Where we add value to our portfolio isn't in risky, high-yield plays, but in loans that are a little more than an industrial loan that's, say, getting 145 over Libor or less," Waldeck said.
"There are more lenders entering into construction lending, and that's where competition is driving down rates. Now it's less obvious where your next deal is coming from."
Buchanan Street Partners co-founder and President Timothy Ballard said his company has two kinds of customers: large pension plans that have a lot of capital, but are reluctant to deploy it because they are a little worried about the future of the economy, and high net worth investors looking for more opportunistic deals.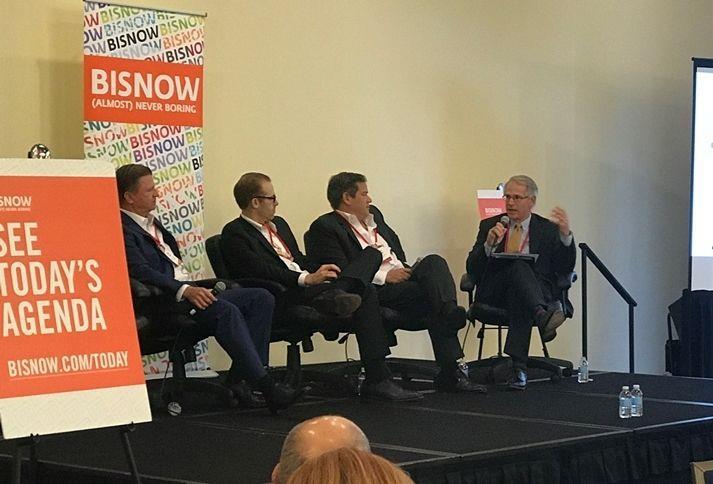 "High net worth investors want yields that they can't find in their other investments, so they're eager to be in real estate, and if they can get a 6% to 7% cash dividend, they're excited about that," Ballard said.
Transaction volume has been falling in the last year or so.
"The institutional investors are cautious. They're defensive and piling up cash," Ballard said.
"The projections are that transaction volumes will continue to drop, because owners are rewarded for not selling. I've seen that over and over."
LBA Realty Vice President, Acquisitions Mike Johnson said his company, a private REIT, has two funds: one an opportuntistic fund that acquires industrial and office, the other a fund that focuses on core industrial.
"There's a lot of capital chasing the same deals, so it's a challenge to find deals and close them, but we're finding opportunities. We're also realistic sellers."
Johnson also said there is a massive consolidation going on within the industry.
"On the industrial side, there are core funds that don't sell," he said. "As they acquire properties in one-off deals from private owners, it's that much more product that's taken out of the marketplace."
USAA Real Estate Co. Managing Director Steven Ames said his company has seen a lot of growth, with about $20B in properties under management and funds that cover the entire capital stack. The company has sold about $10B in real estate assets over the last four years, but even so has grown.
There are reasons for caution now, Ames said.
"We're in the second-longest growth cycle in history, about eight years. There's rising interest rates, slowing rent growth, geopolitical uncertainty — a lot can happen quickly to slow down growth. Also, the country has spent the last year watching the train wreck of our politics."
"We're looking for investments that can weather the downturn, because there are always downturns."
Green Street Advisors Managing Director, Strategic Research David Bragg, whose company does research across the country and in all property sectors and also has an advisory and consulting group, said there is great disparity in real estate valuation now.
"We're seeing retail values declining in the last year, especially in the low-quality mall segment, and rising values in industrial real estate. Those are the two standout sectors."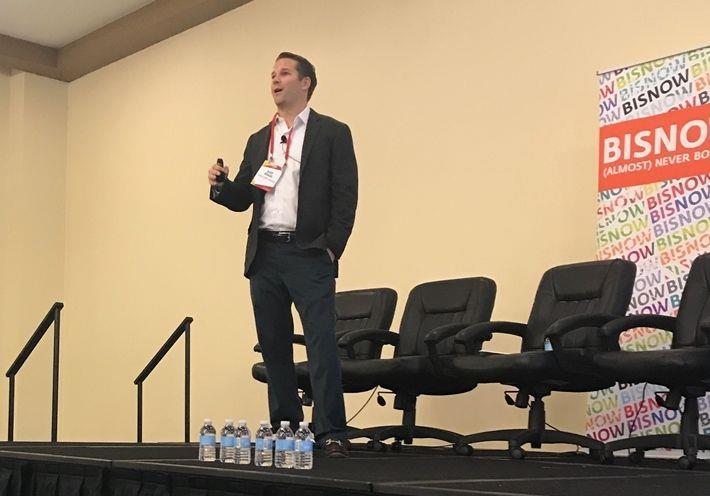 Cap rates have flattened out in most sectors in the last year, Bragg said, though they have been rising dramatically in lodging, and in the mall sector, which varies greatly according to
the quality of the mall.
For Class-D and C malls, it is likely that many of them will not exist in the near future. The valuation of the top 1,000 malls, by contrast, is strong.
"Our favorite sector, and it has been for some time, is manufactured housing, which is highly fragmented and undervalued. There are a couple of high-quality manufactured housing REITs that we think very highly of."
Bragg said e-commerce, Airbnb and the transportation revolution are key considerations that will affect certain property sectors in the future.
The outlook in terms of asset values for various niche sectors, such as data storage, net lease, self-storage and manufactured housing, are generally better than more mainstream property types, except for industrial, he said. Declining values are expected for malls and office.
THE FUTURE OF THE PRIVATE-LENDING SPACE
NEWPORT BEACH, CA—The CRE finance market is watching to see whether the Trump administration will advocate changes to Dodd-Frank and how those changes could impact the securitization and banking side of the market, Buchanan Street's Matt Doerr tells GlobeSt.com.
The commercial real estate finance market is watching to see whether the Trump administration will advocate changes to Dodd-Frank and how those changes could impact the securitization and banking side of the market, Buchanan Street Partners VP Matt Doerr tells GlobeSt.com. The firm recently provided a $16-million loan to refinance 21845 Magnolia St., a 29‑acre industrial facility in Huntington Beach, CA, recently purchased by subsidiaries of Shopoff Realty Investments. The loan represents the company's ongoing strategy to provide reliable bridge financing for value-add real estate.
Buchanan Street also recently provided an $18-million loan to a major Los Angeles-based development firm for the acquisition of an existing shopping center in Granada Hills, CA. The loan was funded through Buchanan Street's proprietary bridge lending platform and provides additional funds for interest, pre-development expenses as well as "good news" funds if entitlements are secured. The borrower recognized the attractive in-place zoning, which may permit high-density commercial and multifamily use. The "by‑right" zoning designation greatly enhances the site's redevelopment appeal.
Lastly, Buchanan Street continues to expand by recently adding Chris Cervisi as assistant VP to its debt-investments team to meet its growing business and market demand. Cervisi joined the team last month with more than eight years of experience structuring equity and debt and is responsible for sourcing, structuring and underwriting real estate debt investments. In his previous role, he was focused on office and retail acquisitions and asset management, including underwriting, market research, business-plan formulation, reporting of fund investments and dispositions.
We spoke with Doerr about these two transactions and the hiring of Cervisi, how they all relate to the company's strategy going into 2017 and where he sees the private-lending market heading.
 GlobeSt.com: How are the refinancing of the Huntington Beach industrial/land property, the acquisition loan for a San Fernando Valley shopping center to be redeveloped and the addition of Chris Cervisi related to your company strategy?
Doerr: These most-recently funded loans and the hiring of Chris are tangible indications of not only our platform and personnel growth, but the positive reception of the Buchanan Street brand within the bridge-lending business. These loans specifically affirm our Western US regional focus and adaptive structuring capabilities in customizing varied loan solutions. Chris's diverse background on both the equity and debt side of the ledger allow us to further build out our talent base to serve our broker and direct borrower relationships.
GlobeSt.com: What type of growth do you envision for your company in the next year?
Doerr: Since our company's inception of the mortgage-lending business, we have continued to grow our active pipeline and loan closings, which point to an increased production year for us in 2017. Anecdotally, we have seen a significant increase to our pipeline within the past 60 days aligned with the recent uptick in interest rates. In addition to our bridge lending, we also provide institutional mezzanine capital for larger projects. Both products are becoming more active within the construction lending area where banks have been negatively impacted by the increased regulatory environment.
GlobeSt.com: How do you see the future of the private-lending space?
Doerr: We believe that the private-debt-capital space will continue to capture more market share in the wake of HVCRE rules and other regulations. The CRE finance market is watching to see whether the Trump administration will advocate changes to Dodd‑Frank and how those changes could impact the securitization and banking side of the market; however, it's unlikely that any changes will occur in 2017, and regardless, there will always be a need for predictable private capital to meet varied and customized borrower demand. There continues to be a need for capital that can provide structuring flexibility, responsiveness and certainty of execution. We pride ourselves on our discretionary, efficient and expeditious closing process.
GlobeSt.com: What else should our readers know about your company?
Doerr: As we enter into our 18th year, Buchanan Street continues to innovate and develop new investment products for our diverse investor client base. It is evident that real estate is becoming a significant part of an investor's asset allocation, with its ability to offer fixed-income characteristics while providing tax advantages and an inflationary hedge. Accordingly, we are continuing to explore new property segments for portfolio diversification to satisfy our increased client demand.
SMALLER, PRIVATE REAL ESTATE INVESTORS PUSHED OUT OF SAN FRANCISCO FLOCK TO OTHER BAY AREA MARKETS
By Cory Weinberg
Buchanan Street Partners' origins may have started on its namesake road in San Francisco's Marina District, but the private real estate investor has avoided office purchases in the city since 2008. Instead, it's focused on making $15 million to $40 million buys in cheaper markets such as Ontario, California and Mesa, Arizona.
Now based in Newport Beach, the investment firm has jumped back into the Bay Area by buying office parks in less-sexy markets. It paid about $25 million each for two office parks in the region in the last two months: Rowland Plaza in Novato and the South San Francisco Business Center.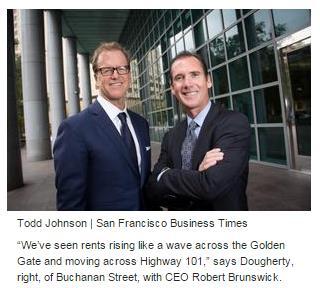 Robert Dougherty, a partner at Buchanan Street, said the properties fit the firm's profile as a "special-situations buyer" that "doesn't have billions of dollars to put out where we'll pay market (rent) at whatever price."
"We didn't like the entry points we found in 2011 and 2012, and it took us a while to find the right place to get back in," Dougherty said. "The Bay Area has been overpriced as a whole."
Private real estate investors like Buchanan typically don't have as much money to throw around as real estate's big boys: publicly traded investment trusts, overseas buyers or institutional investors like pension funds or insurance companies.
But smaller investors have been finding more mid-market buys lately — purchases that range between $15 million and $40 million — according to research firm Real Capital Analytics.
As of mid-July, private investors are on pace to make nearly $900 million worth of mid-market office buys in the Bay Area this year, up from about $600 million last year and $400 million in 2012 and 2013. Less than a third of that is on pace to be in the city of San Francisco, with the remainder funneling into the Peninsula, North Bay, East Bay and some Silicon Valley cities.
Across the region, private investors have made the most mid-market office deals this year, representing 40 percent of buyers. Institutional investors made up 32 percent of the buys, according to Real Capital Analytics.
But while private investors have been selling more than buying in San Francisco proper in recent years, other markets are picking up the slack.
As office rents continue to rise, the Bay Area's outer markets open investment doors to buyers looking for higher yields at lower prices, said Al Pontius, senior vice president of commercial property groups at Marcus & Millichap.
"Those communities and assets today are interesting. Twelve to 24 months ago, there would have been no interest," he said. "There's an expansion in the range of acceptability, and that's coupled with a better yield that they could get."
While investors may not want to "pay the freight" to invest in San Francisco, they have a bigger appetite for markets "considered riskier," Pontius added.
In San Mateo County, average asking rents in the county were up 10 percent year over year last quarter, rising to nearly $48 a square foot each year. Smaller companies have also started to flock to the East Bay after getting priced out of San Francisco.
The North Bay is also gaining strength. Last quarter, Novato drew a $16 million buy of a 87,268-square-foot office building from private investor Ellis Partners.
The North Bay office market boasts its lowest vacancy rate (14.5 percent) since 2007, according to the brokerage DTZ. Though average asking rents have mostly stayed flat at $24 a square foot annually in the North Bay, they don't come near to justifying new construction, and the area's restrictions on development curb new office competition.
Dougherty of Buchanan Street said the 143,444-square-foot Novato office project Rowland Plaza is about 32 percent vacant, and it will get some renovations. He said he'd like the plaza, which is made up of government and healthcare tenants, to add technology or biotech firms to the mix.
"We've seen rents rising like a wave and it's emanating across the Golden Gate and moving across Highway 101," he said. "In Marin, tenants are migrating north because they're getting priced out of these southern Marin markets."